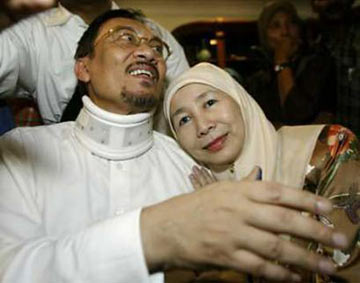 Presiden KEADILAN, Datuk Seri Dr Wan Azizah Wan Ismail diumum sebagai calon bari bagi pilihan Raya Kecil DUN Kajang.

Beliau akan menggantikan Ketua Umum, Datuk Seri Anwar Ibrahim yang hilang kelayakan untuk bertanding di kerusi itu selepas dijatuhi hukuman penjara lima tahun oleh mahkamah rayuan.

Perkara itu dinyatakan Anwar dalam satu sidang media di Kajang, hari ini.
Details

Written by Administrator
Published: 10 March 2014
Hits: 87
Mata seluruh dunia kini bertumpu di perairan berdekatan selatan Vietnam, lokasi di mana pesawat Malaysia Airlines MH370 dilaporkan kali terakhir dapat dihubungi menara kawalan sebelum hilang tanpa berita.

Penantian mendebarkan yang kini masuk hari kedua masih kabur, dengan pelbagai teori dan spekulasi baru muncul setiap hari.

Ada yang mengaitkan kehilangan pesawat ini dengan serangan pengganas, dan pakar penerbangan melahirkan rasa hairan dan terkejut mengenai cara kehilangan MH370 yang dikatakan hampir tidak pernah berlaku dalam sejarah penerbangan dunia.
Details

Written by Administrator
Published: 10 March 2014
Hits: 169
Ahli Parlimen Pakatan Rakyat akan memboikot sidang Parlimen pada 11 Mac ini, sebagai membantah ketidakadilan hukuman yang dijatuhkan ke atas Ketua Umum PKR, Datuk Seri Anwar Ibrahim.

Ia adalah ketetapan mesyuarat Majlis Pimpinan Pakatan Rakyat, dan diumumkan Anwar sendiri dalam ucapan penutupnya pada Konvensyen Pakatan Rakyat kelima hari ini.

"Ketiga-tiga parti akan arahkan semua Ahli Parlimen agar tidak hadir sidang Parlimen pada 11 Mac, sebagai tanda bantah kezaliman, rasuah dan sikap mereka yang berterusan peralat institusi negata untuk kepentingan mereka," katanya.
Details

Written by Administrator
Published: 10 March 2014
Hits: 137
Read more: Ahli Parlimen Pakatan boikot sidang Dewan Rakyat 11 Mac, bantah keputusan terhadap Anwar
The NewGen Party has decided to withdraw from Kajang by-election and throw its support to PKR's newly named candidate Datuk Seri Dr Wan Azizah Wan Ismail.

Its secretary-general S Gobi Krishnan said the decision had to be made after deliberating various issues, including a conviction of PKR supremo Datuk Seri Anwar Ibrahim for the sodomy charges by the Court of Appeal.

This was despite the party having selected a candidate to represent them in the by-election to be held on March 23.
Details

Written by Administrator
Published: 10 March 2014
Hits: 121
Read more: Kajang by-election: NewGen party and Zaid withdraws to support Wan Azizah
The mysterious disappearance of Flight MH370 is a grim reminder of another similar tragic incident of Air France Flight 447, which plunged into the Altantic Ocean in June 2009, killing all 228 passengers on board.

The flight took off from Rio de Janeiro to Paris, made its final radio transmission in the early hours of June 1, but later disappeared from radar and lost all contact.

The mystery of flight AF447 took three years to resolve, when France's Bureau of Investigation and Analysis (BEA) search teams finally retrieved one of the two black box flight recorders in 2011.
Details

Written by Administrator
Published: 10 March 2014
Hits: 197
Read more: Disappearance of MH370 a grim reminder of 2009 incident